Dog Boarding Orange County
Luxury Dog Boarding in Orange County CA
24/7 Temperature Controlled Rooms. All Rooms Fitted with Drains for Daily Cleaning Services.
Uptown Paw provides luxury dog boarding in Orange County, CA. Our expansive accommodations are meticulously crafted for both comfort and opulence, accompanied by a dedicated team who anticipates every need of your furry companion, ensuring an unparalleled level of care. Our state-of-the-art facilities prioritize pet safety, hygiene, and entertainment, offering all the familiar comforts of home along with a wealth of activities and relaxation options that rival the extravagance of a high-end vacation, whether it's a brief day of play or an extended sojourn. Within our suites, you'll find steel doors fitted with double-tempered glass for transparency, and each suite is thoughtfully equipped with drainage for effortless daily cleaning, boasting immaculate porcelain-tiled floors.
Our Private Dog Boarding Rooms in Orange County CA
Indulge your cherished pet in a truly memorable escape within our luxurious cottages. Each cottage offers a spacious and tranquil environment, perfect for your furry companion to relax and recharge. Secure a reservation for dog boarding in Orange County, CA today, guaranteeing your beloved pet a lavish and comfortable experience that is truly exceptional.
Spoil your beloved furry companions with a lavish getaway in our pet-friendly family villas, thoughtfully crafted with pet-loving families in focus. Each villa assures both privacy and togetherness, providing your cherished pets with a distinctive shared experience. Secure your dog boarding reservation in Orange County, CA for our family villas, and treat your furry friends to a cozy and unforgettable escape.
Announcing our latest addition: brand-new cat boarding condos! We are delighted to present a variety of options, tailored for both individual and family cat accommodations. These condos have been meticulously designed with a holistic approach to care, ensuring that your cherished feline companions enjoy a genuine sense of being at home away from home.
Dog Daycare in Orange County
Uptown Paw is where your pets discover their blissful rhythm, and we dance to the beat of their daily lives. We deeply understand their distinct personalities and needs, tailoring each day's activities to match their mood. This is the essence of Uptown, where the spirits of our furry guests resonate with ours. Secure your spot at our dog daycare in Orange County today, and let your pets join in the harmony.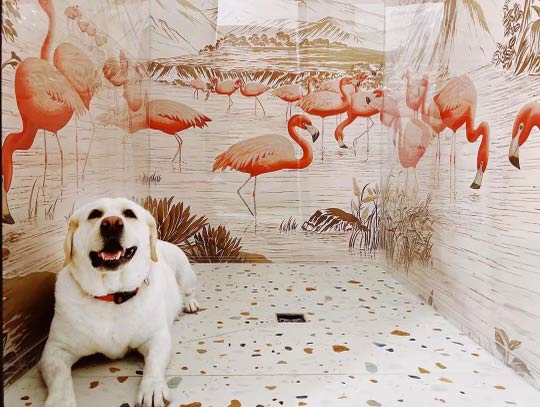 Treat Your Pup to a Getaway
Promo for First Time Clients: 10% off Dog Boarding & 15% off Bath Products
While you're on vacation, treat your cherished pet to a luxurious escape with our premium dog boarding services in Orange County, CA. They'll relish individualized attention during their stay, snug accommodations, plenty of play, and a vacation tailored just for them. Don't wait; book now and witness your pup rediscover their true spirit in our care!
*Promotion for first time boarding clients. Cannot be combined with other discounts. Cannot use boarding night on peak holiday weeks of: Christmas, Thanksgiving, Easter, 4th of July & New Years.

$70 a night/2nd pet 10% off
10 nights or more enjoy a complimentary 10% off
$35 a night/2nd pet 10% off
10 nights or more enjoy a complimentary 10% off
family stays together, in large condos that are 6 stories with drawer for litter box. Seperated from dog areas. will have cuddle times and play
Individual drains in every suite
Spacious rooms
24/7 temperature controlled
Indoor only secluded luxury
House cleaning service daily
Individual daily walks (individual 2x)
Daycare socialization
Music & aroma therapy
Daily nosh time according to schedule
Cage free
All doors steel, double tempered glass
Water throughout the day
NO overcrowding
One-on-one time
Uptown Paw stands out as the sole pet hotel that offers comprehensive drainage solutions for all your pet's requirements, encompassing everything from bedding to bath time and more, all without any additional surcharges for other services. We understand that proper hygiene demands thorough sanitation.