They Play, They Snooze, & We Cover the Rest
Boutique Essence- California Style
Temperature controlled 24/7 for those hot summer days & cold nights. Every room is fitted with drains for daily house service cleaning.
Our private, luxury-style cottages & family villas offer ample space to spread out but are casually elegant, with an attentive staff to anticipate their every need and provide an exceptional level of care. Our amenities are designed with pet safety, hygiene & fun in mind. We provide all the comforts of home with the activities & relaxation of an ultra luxury vacation away or just a day to play. We have steel doors with double tempered glass so we can see them. Each suite has drains for daily house service, with beautiful sanitary porcelain tiled floors.
Allow your treasured pet to indulge in an unforgettable stay in one of our luxurious cottages. Each cottage offers a spacious & tranquil environment, perfect for your furry friend to unwind and relax. Book a stay in one of our cottages today for a lavish & comfortable experience for your pet.
Pamper your treasured furry companions with a lavish retreat in one of our family villas. These were designed for a family of pets in mind. Each villa ensures seclusion and intimacy for your beloved pets to have an experience together. Book a stay in our family villas today for a cozy getaway for your furry friends.
Our new cat boarding condos are currently under construction, & we can't wait to show you what we have in store! Stay tuned for a variety of individual & family cat stay options, with a holistic approach to care that will ensure your furry friends feel at home.
Uptown, where pet's spirits soar. We go with the rhythm of their beat of the day. We understand them & their needs, tailoring the day's play to their mood. That's the ethos of uptown, where the spirit of our furry guests meets ours! Book with us today.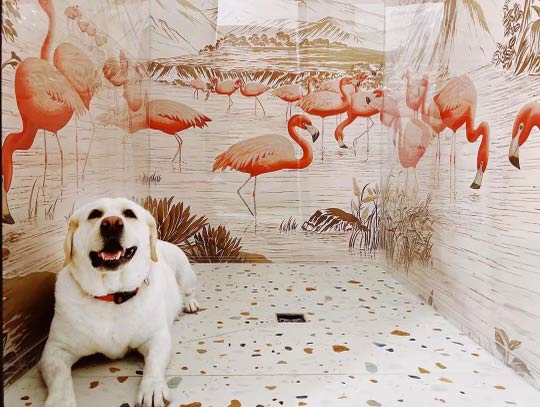 Treat Your Pup to a Getaway
10% Off Boarding & 15% Off Bath Products
While your'e away, treat your pet to a luxurious getaway with our premium boarding services where they will receive personalized attention during daycare, comfy accommodations, plenty of play and vacay. Book now and let your pup unleash their spirit with us!
*Promotion for first time boarding clients.
Cannot be combined with other discounts. cannot be combined with other discounts, cannot use boarding night on peak holiday weeks of: Christmas, Thanksgiving, Easter, 4th of July & New Years.

$70 a night/2nd pet 10% off
10 nights or more enjoy a complimentary 10% off
Individual drains in every suite
Spacious rooms
24/7 temperature controlled
Indoor only secluded luxury
House cleaning service daily
Individual daily walks (individual 2x)
Daycare socialization
Music & aroma therapy
Daily nosh time according to schedule
Cage free
All doors steel, double tempered glass
Water throughout the day
NO overcrowding
One-on-one time
"We are the only pet hotel that offers drainage amenities for bed, bath and beyond and doesn't surcharge other amenities. Why is this important? Proper hygiene needs proper sanitation. Cleaning floors with chemicals, even pet industry grade, isn't enough. With drains, we are able to fully wash and feel safe for every guest that comes and goes."
"We provide a unique boarding experience for your pet! Each room boasts its own individualistic design, making every stay unforgettable."